What Happened to Mister Ed?
I remember watching Mister Ed as reruns on Nick at Nite. It wasn't my favorite show at the time since I preferred Lassie on Nickelodeon. I did appreciate the fantasy aspect of an animal that could talk but was very picky about whom to speak with. In my opinion the show got a little harder to suspend disbelief during the final sixth season with the introduction of the Secret Intelligence Agency. I guess several other series around that time were also guilty of trying to cash in on the James Bond craze during the Cold War.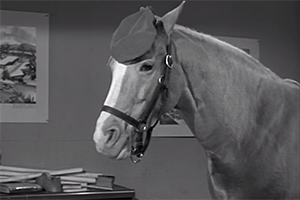 Image Source: metv.com
The video below by YouTuber Dave Sundstrom covers the aftermath of the animal star when the series ended in 1966. Mr. Ed (Bamboo Harvester) spent a few years in retirement living with the horse's trainer Lester Hilton in Burbank, California. Exactly how long that was isn't quite certain but Wikipedia places the horse star's death as to having occurred in 1970.
As narrated in the video below there are at least two different versions of how the horse known to most as Mr. Ed died. There are also at least two different possible resting places. Did Lester Hilton scatter the cremated ashes somewhere in Los Angeles county? Or is Mister Ed's grave marker in Tahlequah, Oklahoma the real deal? The death of the horse known as Mister Ed seems to be one of those Hollywood mysteries that may go unsolved with the true details lost to time.