Justin Sun's Guide To Becoming Wealthy Using Hive
Note: @holovision is unable to blog today (April 01, 2021). Filling in is guest blogger @justinsunsteemit who will be sharing some of the details in his program to get rich quick using the Hive platform.
How to Get Rich Quick on the Hive Platform
By Justin Sun (April 01, 2021)
INTRODUCTION
Would you like to be rich? I mean really, really rich. Would you like to be a millionaire? Billionaire? Trillionaire? You could be even richer than that! How about a brazillion dollars? This post will reveal some of the secrets in my creating wealth program.
A wise man once said the key to success is to work smarter and not harder. Who said that? How should I know? That would require a little research by typing a few words into an internet search engine. Also, attribution is for fools. Remember what that wise man said. Working hard is not the key to success. If somebody already did the research then just copy and paste what they did. Why reinvent the wheel? The TRON white paper and base code were plagiarized and TRON's market cap is worth billions of dollars. Join my program and you'll learn from that kind of experience.
GETTING STARTED
Now that you understand low effort equates to big bucks it's now time to monetize that factoid. To do that all you need is an account on the Hive platform after joining my program.
Have you heard of those YouTube multi-channel networks? That's sort of what I am offering. Except my service doesn't offer digital rights management, audience development or any of those other stupid services. What my program offers is simple: You post your low effort and/or plagiarized content and you get upvotes worth far more than your posted garbage.
HOW MUCH "LOW EFFORT" IS INVOLVED?
Make no mistake. This isn't about "no effort". It takes no effort to butt-dial 9-1-1. It takes at least a little effort to sit on your butt in front of a computer and spam reply. You don't get paid for butt-dialing. Therefore logically you should get paid for spam replies because of the minimum effort that requires.
HOW MUCH OF THE WORK WILL THE PROGRAM DO FOR ME?
Here is a list of replies which can be copied and pasted as replies to posts on Hive. This list is what Bronze Status members in the program get when they join.
Great buddy
Nice buddy
Keep working hard
A list twice as long is available to Gold Status members of my program. Platinum Status members get a list three times as long. Diamond Status members are given the promise of a 25 replies list that can be copied and pasted from when it becomes available sometime in the future.
JUST ONE OF MY PROGRAM'S MANY SUCCESSES
Below you'll see one of my many clients. This member of the program posts copied and pasted low effort replies from his member list every day. Later one of my program's interns associates upvotes every generic reply far more in value than what could possibly be reasonable.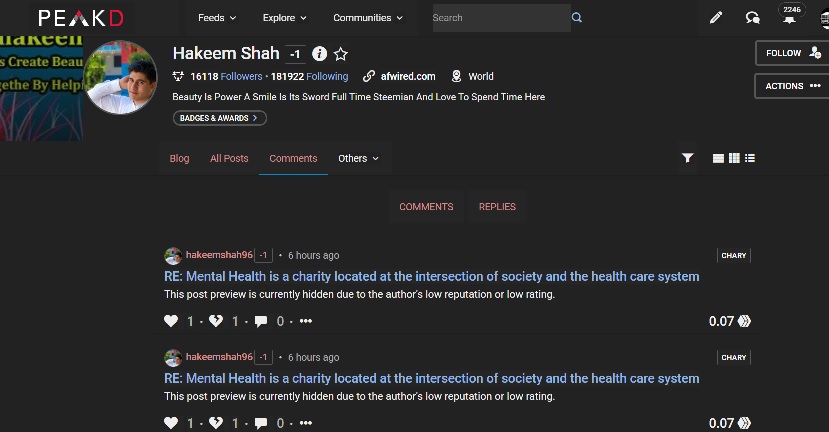 Image Source:
https://peakd.com/@hakeemshah96/comments
This member has been in my program since the beginning. When we started and were passing out reply lists to be copied from the word "great" was misspelled. After more than three years this member still hasn't put the effort into correcting the misspelled word. That is how dedicated this member is in achieving the goal of unbelievable wealth.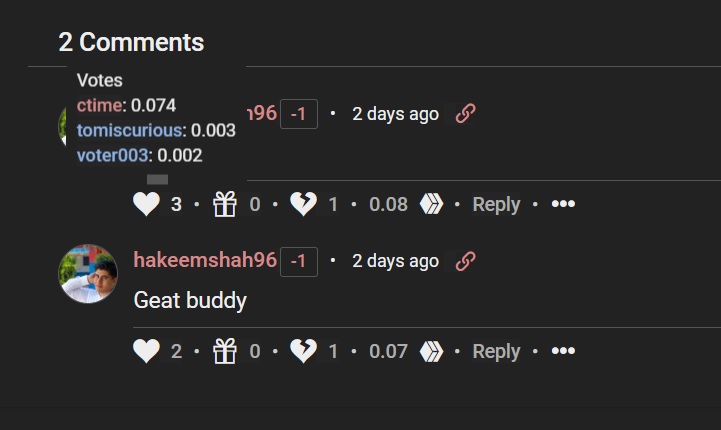 Image Source: https://peakd.com/chary/@hive09/heart-uk-is-a-uk-charity-dedicated-to-supporting-people-with-high-cholesterol-qqs5ac
HOW DOES UPVOTING MY 20 GENERIC COPY-PASTE REPLIES $0.07 EACH DAILY CREATE INCREDIBLE WEALTH?
You get rewarded in upvotes for your low effort work on the Hive platform but you don't get rich from that. Who cares about Hive? Fuck Hive! In order to become super duper rich you need to take everything you "earn" on the Hive platform and transfer it to your steemit.com account. You learn how to create a steemit.com account when you join my get rich on Hive program and give me everything you own.
CONVERTING HIVE TO STEEM GETS ME RICH?
No, if you were supposed to buy STEEM then I wouldn't be promoting redeeming Steem Power for TRX rewards in your Steemit.com wallet. As soon as I get around to it I will just do what Rick Sanchez did and change a one to a zero. Then STEEM will go from being worth one of itself to zero of itself. Won't you feel stupid then when you have worthless decentralized STEEM when you could have bought TRON?


Image Source: https://steemitwallet.com
CONCLUSION
Be sure to also check out the first chapter of my book Justin Sun's Guide to Cryptocurrency. A single TRON will be worth trillions someday. I guarantee it. When TRON supermoons we will all be wealthy drinking the tears of those Hive fools.
I hope to see you become a member of my wealth creation program. Together we will copy, paste and plagiarize our way toward a prosperous future.
Copyright 2021 Justin Sun. All rights reserved. Any copying and/or reproduction of this material is strictly prohibited by law.
Posted Using LeoFinance Beta