Forming Anime Tribe Update (Official Site, Planned Launch Date, Some Guidelines)
This post is an update about forming an anime steem engine tribe. Some information may change later before the launch of the tribe. A proper whitepaper will be posted in early December.:
So far the plan is to have a January 01, 2020 launch. The minimal cost for setting up a steem engine tribe (what is referred to as "The cheapskate" plan) is 2000 ENG. Plus some additional ENG tokens staked for active users. By the end of this week @animetoken should have 1000 ENG and then have the rest of the funding by mid-December.
Right now I am about half-way through a class at CSU Dominguez Hills. When it ends after the first week in December I'll have more time to get everything ready and promote the launch of the tribe.
Why an anime tribe? Anime has a large fan community that really doesn't have the kind of presence it should have on this platform. This platform still has the potential of being a great way for independent creators to share their creativity. Fans create user content on other sites owned by corporations which basically makes fandom volunteer work generating content to increase a website's value when it comes to internet search engine placement. Anime token will incentivize members from the anime community to join this platform and share their thoughts and opinions. Staking and upvoting artist content using the anime tribe's tag will be a way to become a patron of anime art while receiving curation rewards. Quality content shared with the tribe will be rewarded while the contributors retain the rights to the their work. 
The priorities of anime tribe will be:
Encouraging and promoting quality content relating to anime and manga
Being an incentive for members of the anime fan community to join the steem platform
Hodling and staking ANIME tokens for upvoting and downvoting user content
It should also be noted that an alternative token by @dm312 (MANGA) also exists. Anybody interested in ANIME might also be interested in that token.
The official tribe's website:
The tribe's website domain has been registered and it is animetoken.moe. As stated on nic.moe:
The word "moe" (in Japanese: "萌え"; pronounced as "moh-ay") is a slang word rooted deep in the Japanese Otaku culture. It has often been used to mean a particular type of "adorable" or "cute" towards fictional characters, people, animals, etc.
"Moe" is a very versatile word used to express a deep feeling or passion for something you love....
Going with .moe was chosen to complement the type of quality content that will be featured on the tribe website. Currently a very simple webpage has been put up on the domain. After launching the anime tribe and making sure it has enough staked ENG tokens to "keep the lights on" (as @aggroed puts it) the next priority will be to get Nitrous so animetoken.moe will look more like stemgeeks.net or creativecoin.xyz.
Launching anime tribe:
No ANIME tokens will be available until the time of the tribe's launch. At the time of launch staking and SCOT will be enabled for the ANIME token. There will be an airdrop to around 100-200 accounts (amount not yet determined) of ANIME tokens and an initial release of 500,000 ANIME put on the market. Another 500,000 ANIME will be issued to @animetoken because 1.) @animetoken can do it and 2.) @animetoken needs ANIME whale voting power to ensure copyright infringing material gets downvoted because if there are intellectual property problems the first head on the chopping block will be @holovision, the founder of the tribe.
Which brings us to the rough draft of what material won't be acceptable to the anime tribe. There is an alternative MANGA token @dm312 is working on. Some of the material that doesn't meet anime tribe guidelines may be acceptable to MANGA or another tribe.
Derivative Works - Copyright infringement is not acceptable. Hopefully this will always be true for every steem engine tribe. An example of absolutely WHAT NOT TO DO is the @serum12 account. If the anime work is in the public domain or shared under a license such as Creative Commons the post should have supporting text and attribution.
Most memes - As the @minnowbooster ToS states, "Memes are not considered art.". Most memes look like it took less than a minute to make and post. Anime tribe will strive to promote quality content. If it looks like a meme post is the result of lazy work (a few words of text on an image found on an internet search engine with no supporting text in the post) the post will probably be downvoted. If memes of at least some minimal quality are submitted using the tribe's tag it is recommended not to post more than two or three memes a day using the tribe tag to avoid the appearance of spam.
Spam -  Some define the term "spam" more broadly than the technical definition. Generally "spam" for the anime tribe is multiple low quality postings within a short period of time using the tribe's tag in a way that is obviously meant only to get ANIME tokens.
Some fan fiction - This can be a legal grey area. Fanfiction.net has a policy of removing works when requested by intellectual property owners. It is assumed by anime tribe that if fan fiction for a work of manga or anime appears on fanfiction.net it is at least tacit approval from the rights holders that fan fiction is allowed. If your anime or manga fan fiction doesn't have other examples from the work posted on fanfiction.net then don't use the anime tribe's tag for your fan fiction.   
Most Hentai/Ecchi/ect. - The animetoken.moe site is meant for a general audience so there won't be a process to confirm anybody is age of majority or older to view the site. User content submitted using the tribe's tag should be no worse than what is considered PG-13 or it may be subject to downvoting. @dm312 has already expressed an intention that MANGA will be more liberal in their guidelines with this type of material and have strict tag guidelines for NSFW material.
Acceptable material:
The word "anime" to most of the world is Japanese animation. In Japan the term is more generally used for any animation. As long as it is good quality content about animation the content will be acceptable but it is recommended that if a user is using the anime tribe's tag for animation posts at least 10 percent minimum of the posts should have anime, aeni or donghua related content.
Examples of possible post topics are:
Anime news
Art tutorials
Reviews
Plot holes/fan theories/head canon
That's it for now. I might have forgotten a thing or two to be included in this but I can include that in a future update if I have forgotten something.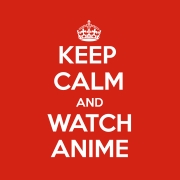 Photo Source: keep-calm.net