Customer Service and 3D Printers
I tried to buy a Monoprice 3D printer. On paper the plan seemed simple:
Get money.
Order Monoprice 3D printer.
Working and functional Monoprice 3D printer is shipped to me.
I use working Monoprice 3D printer.
I've made past posts about the first 3D printer I got through Amazon.com and how the replacement had cockroaches in the box.
To be fair my buyer experiences were done through Amazon and not through the Monoprice retailer directly. A flyer that came with the 3D printer stated: "..Do not return to the reseller you purchased from. If you are having trouble, contact Monoprice Technical Support...". After multiple attempts contacting Monoprice I got absolutely no response and finally gave up.
If I wanted buying a decent product to be challenging I would have got a Federal Firearms License and bought a machine gun. Then I could have hunted down Paul Vernon to recover the cryptocurrency I had on Cryptsy.com before he stole it. Might as well turn that into a sport because humans are intelligent making them the most dangerous prey to hunt. I read that in a short story by Richard Connell. Or I might have learned that from one of The Incredible Hulk episodes starring Bill Bixby and Lou Ferrigno. It was probably the latter since I am an American who received public education.
I am not advising anyone to not get a Monoprice 3D printer if they want one. I originally tried to get an MP10 Mini because my on-line research and the internet videos I watched that reviewed the product indicated it was a good 3D printer. Maybe due to the global pandemic Monoprice is having problems. I don't know. All I really know for certain is that I couldn't call them and none of my nine e-mails to them over a three week period got a reply.
That's why I now have a Tronxy XY-2 Pro.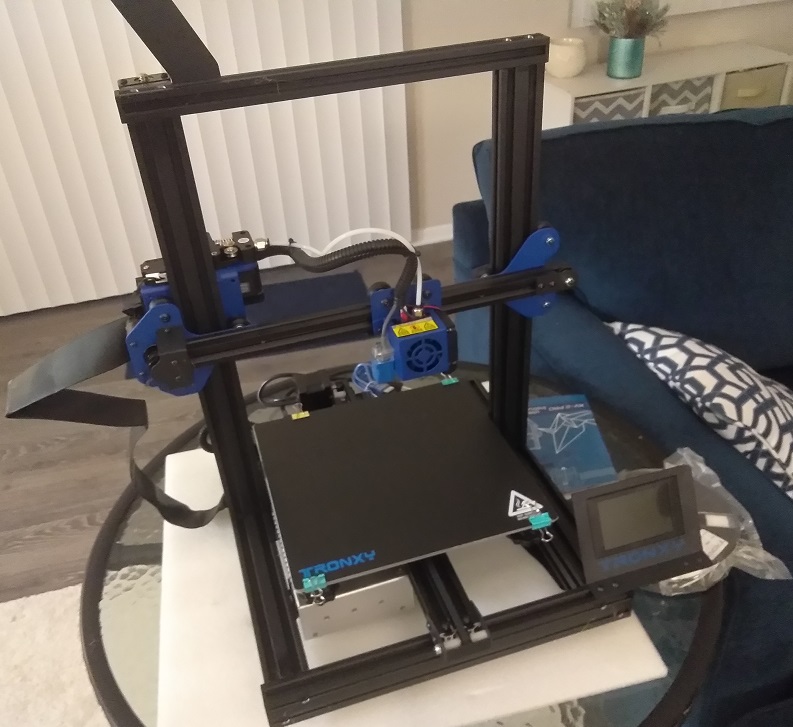 Image Source: Personal photo
The Tronxy XY-2 PRO I bought has some of the features of the Monoprice MP10 Mini I wanted such as a generous build volume and semi-auto leveling.
Before buying the Tronxy printer I sent the customer support at Tronxy an e-mail stating that I was interested in purchasing the printer and had three questions. Two of the questions I put in the e-mail I already knew the answers to. The third one was about a detail that wasn't clearly worded in the on-line version of the product manual.
In less than 48 hours I received a reply to my e-mail. Since I already knew two of the answers I could verify the information given was accurate and the third answer was detailed and helpful.
Since Tronxy responded to an e-mail when I wasn't even a customer yet I felt more confident that I would actually get help if I needed it after buying their 3D printer. Since the 3D printer is cheaper on their official store website than through Amazon I ended up saving some money and I didn't risk going through more drama from Amazon sellers.
Posted Using LeoFinance Beta